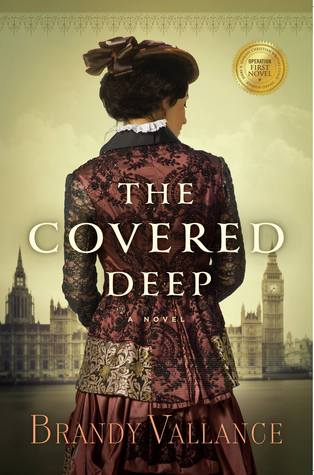 Today I'm delighted to introduce you to my new friend Brandy Vallance. Her debut novel The Covered Deep released recently, and I read it after my friend Kristy Cambron raved about it. After I read it, I understood why. This book is an adventure novel in the lines of Indiana Jones or Romancing the Stone. Bianca, the heroine, is selected by a British lord to participate in an adventure to Israel. The four people he's selected are on the trip as an experiment. As they race around the globe, Bianca is attracted to a man who captures her heart, but there are so many roadblocks in the way it appears impossible for them to come together.
I loved this book so much that I bought a copy to giveaway. Read to the end to make sure you enter the giveaway. Without further ado, let's chat with Brandy.
Brandy, you're book The Covered Deep is a fun mix that felt a bit like an Indiana Jones movie set in the late 1800s. How did you come up with this fun proposition?
Thanks, Cara! Paul Emerson, the hero and historian of the British Museum, does have a little Indiana Jones in him. I loved the movies when they came out and I'm a complete history fanatic. I originally wanted to be an archaeologist or a historian, so my passion just wove its way into the story.
Your heroine literally travels the world. How did you come up with her?
Bianca has a little Anne of Green Gables in her. She's an incurable romantic with the guilty pleasure of reading Gothic romance novels. She longs to get away from her small town—Portsmouth, Ohio—and find the perfect romantic hero. I lived in Portsmouth for a while and I visited Southern Ohio every summer as a child. Some of my favorite memories come from that area. I wove some of that into Bianca's backstory.
What did you learn as you were writing this book?
Researching was loads of fun! I corresponded with the British Museum and was able to go to England in 2011. I also poured over tons of Victorian etiquette books so I could have a frame for Bianca. Personally though, the process of writing this book taught me how to persevere. The final manuscript of The Covered Deep was my eleventh draft!
Tell us about the amazing way this book came into existence.
The Covered Deep won the Operation First Novel contest through the Christian Writers Guild. The winner received a contract with Worthy Publishing. It was a total dream come true.
What do you hope readers will take from this story?
True love has to be fought for daily.
What are you working on next?
I'm over the moon excited about my second novel, Within the Veil. It's set in 1885 Scotland—a sweeping romance between an English Royal Horse Guard and a half-Scots gypsy. I just started my third historical romance, set in an exotic location.
How can readers connect with you?
Facebook (both my Author Page and personal page),
Twitter @BrandyVallance, Goodreads, Pinterest &YouTube (Brandy Vallance Inspirational Historical Romance).
Thanks so much for joining us, Brandy. Now be sure to enter the giveaway. Do you have a favorite adventure film?