Today I'm delighted to do something a little fun and different. Instead of interviewing an author, I have the immense pleasure of introuding you to some of my favorite novel characters. They aren't my characters, but I sure wish they were. Drew and Madeline make Julianna Deering's Drew Farthering series such fun! I love a good mystery. I love a good historical. And I love a good romance. In this series you have all three with a set of books taking place in 1930s England. It's like reading a classic noir film. Read to the end, because I'm giving away a copy of the latest mystery these two caper through. Without further ado, here are Drew and Madeline.
Drew and Madeline, You remind me of Nick and Nora of Thin Man fame. Do you find your inspiration to solve mysteries from them or from somewhere else?
Drew: Well, I certainly enjoyed The Thin Man, book and film. Who could resist a feisty and deuced attractive girl like Nora Charles? Needless to say, when I met my Madeline and realized she was as keen on mysteries as I am, I had to snap her up.
Madeline: I think we've had a lot of influence from Agatha Christie as well as Margery Allingham and Dorothy L. Sayers, too. We both love reading mysteries and trying to solve the crimes in the books. I suppose it just naturally spilled over into our real lives.
I love reading a good mystery, too, but I've never applied the principles in real life — I'm glad to say! This is your third book, but can you explain how a British Lord and an American girl connected?
Madeline:  *giggles*
Drew: Well, to begin with, I am not a lord. I am merely a commoner, though I do lead a rather privileged life. Anyway, Madeline and I met because her uncle, Mason Parker, happened to be my stepfather. When she came to visit him, I knew almost at once that she was the girl for me. It took her quite a while longer to realize it.
Madeline: That's not true. I knew it right off the bat, I just wasn't sure if I was really in love or just infatuated.  *squeezes his hand* I'm sure now.
I've loved watching your romance develop. Now, tell me, what do you like most about solving mysteries?
Drew:  For me, anytime I can outwit the villain, it's like solving a puzzle and winning a game at the same time. And I truly feel it's something I'm meant to do, helping people in trouble. And, when you have a murder, there's always someone in trouble.
Madeline:  All of what he said, plus together we're a lot more likely to figure something out than each of us would be separately. We make a great team.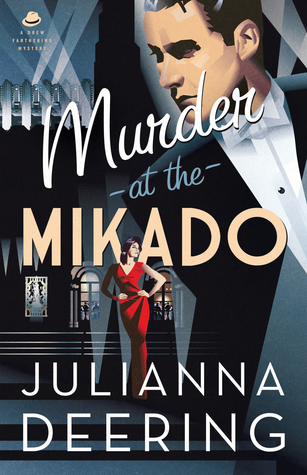 You manage to just stay out of trouble with the local investigator. I'd say he's even warming to your help. How did you manage that feat?
Drew: I think we're just a diversion from his usual routine. Plus he gets to make impressive speeches about letting the professionals handle things.
Madeline: Don't be silly. You know he likes you. You make him laugh . . . inside anyway. Besides, we do give him some good ideas sometimes.
I think he's come to at least grudgingly accept your help. 🙂 What do you like most about each other?
Madeline: I like that, even though he's rich and smart and stylish, he's not stuck up, and he really wants to help people in trouble. And I like that he's very well read and has a sense of humor, too. Plus he's awfully handsome.
Drew:  Ahem. I don't think anyone cares about that last bit. Anyway, what I like about her is that she's entirely feminine and doesn't want to make herself over into a man like so many of these modern girls seem to, but she's plucky and adventurous and I know I can count on her when we're in trouble. I suppose I ought not mention those gorgeous periwinkle-blue eyes.
What are  your future plans? Can you share them with us?
Drew:  Well, it's not common knowledge quite yet, but a little bird tells us we will have a few more adventures coming up. I suspect the Regency house party we've been invited to won't be quite what it seems.
Madeline:  I thought we were going to visit your old school friend who lives in that creepy house on the Yorkshire moors. Is it really haunted?
Drew:  I guess we'll find out.
I'm so glad to hear there will be more adventures! Now for you readers who might like to give these delightful characters a spin, I've got a copy of Murder at the Mikado to giveaway. Just follow the form below.