Today I'm delighted to introduce you to a new friend of mine in this writing journey. Kristy Cambron is an author who's first novel, The Butterfly and the Violin, just released. Her book is the perfect blending of a contemporary and WWII story — but not only is the book WONDERFUL, she's become a sweet friend who radiates Jesus. I LOVE her debut novel so much I have to share it with you.
Kristy masterfully weaves contemporary and historical storylines together. While this half of the book takes place in Auschwitz, it is laced with hope…and the reality that God is with us anywhere we go. This book is beautiful and haunting. Breath-taking and page-turning. You'll love it! If you love WWII fiction, you must go buy it immediately!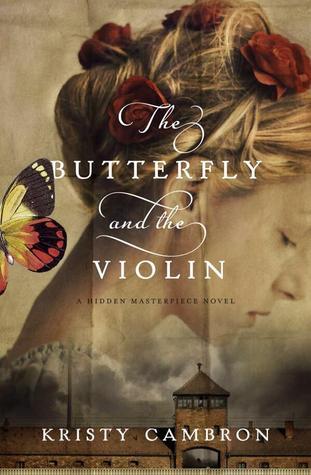 So Kristy's here and I want to introduce her to you and tell you more about her book. First, lets all take a moment to enjoy the GORGEOUS cover. Ahhhh. Okay, now onto the interview! Be sure to read to the end so you can enter the giveaway. And stop by Kristy's site for the other half of this post, a video interview with me.
The Butterfly and the Violin takes readers back to WWII in Austria and a concentration camp. How did you get the idea for this novel?
The idea for Adele's story had been in the recesses of my heart for more than a decade, since I was a young college student in art school. It was then that I first learned that prisoners created art inside concentration camps – under penalty of death if caught in many circumstances. The majority of the artists did not survive and to this day, most remain unknown. The thought of creating art while facing death made me want to understand it more. I began reading anything I could find on the subject – in particular, Elie Wiesel's Night had a profound impact on my desire to write this book.  
One element that I loved about this story was the incorporation of art inside the concentration camps. It's a largely unknown story. Can you give us an example of how people continued to create inside the camps?
I think the Women's Orchestra of Auschwitz is just one of many examples. There was an official orchestra where musicians played to survive. I had the unbelievable opportunity to interview a survivor from Auschwitz-Birkenau when researching this book. I asked her about the orchestra – did she remember it? Did she see the musicians? What did the music sound like? She told me something I'll never forget: each prisoner's survival story was so unique, so terrifying, that they could have all heard the orchestra and remembered hearing a different song. I think that's what connected me to Adele's character most. Her experience had to be unique and so raw in places, but the artistic self-expression was something that united many of the prisoners.
What surprised you most as you researched and wrote this book?
That the art even existed! I learned about the art of Auschwitz more than a decade ago, when completing my undergraduate work in art history. One of my professors began showing slides of watercolors, sketch drawings, even paintings found hidden on the walls inside the camp – and I think every student in that room was shocked to silence. None of us had ever heard of it before.
The heroine had to learn how to love God regardless of what happened to her. Have you walked this same journey?
I'm open about my family's journey in 2013. It was a year of totally new things – a leukemia diagnosis for my Dad, a first publishing contract, visiting a chemo center for the first time, first book signings and my dream of becoming an author, losing my Dad to cancer… The ups and downs of this life, whatever they are to each of us, they don't stop when you become a Christian. I think that was a tough thing I had to realize. Being a Christian is not about perfection. It's messy sometimes. We have hope in Christ, but our faith can be sorely tested when the big storms come. I had to really dig deep this year, and cling to Christ like I never have before. Through the pain of loss, challenges, and the uncertainty that can come in life – they've been difficult, but He has made me stronger through them.
What do you hope stays with readers after they close the cover on this novel?
That we're all in our own journeys through this life. We all have different challenges, struggles, defining moments… I'd love all of us to have God-given strength that is very real in our lives, especially at our weakest moments. I hope readers can see some of themselves in Adele– just like I did in writing her– and know that they can rely on Christ for every one of the barriers that arise in our lives, no matter how large or small. He is a very real, very loving God who has infinite care for the challenges we face.
Can you give us a sneak peek at what's next for you?
Absolutely! My next book is A SPARROW IN TEREZIN, Book #2 in the Hidden Masterpiece series. The story centers around the children's art of the Theresienstadt transport camp (also known as Terezín), the Nazis' propaganda camp north of Prague. It follows a key character from the historical storyline in THE BUTTERFLY AND THE VIOLIN (which I can't share because it would be a major Spoiler). It also introduces Kája Makovský, a Czech-born journalist who survives the worst of The London Blitz in 1940, only to be later transported to Terezín when trying to help her family flee Nazi-occupied Prague at the height of the war. Here in the camp, Kája uses her love of art and of storytelling to help the children – all under the age of fifteen – cope through the horrific experiences of the Holocaust. A SPARROW IN TEREZIN will release from Thomas Nelson (Harper Collins Christian Publishing) in April, 2015.
 This is another GREAT cover, Kristy! Where can people connect with you?
Twitter: @kcambronauthor – Facebook: Kristy L. Cambron – GoodReads: Kristy Cambron  Website: KristyCambron.com
Now for speed-fire round of quick-hit questions:
Favorite food? Italian
Coffee or tea? Yes, please.
World traveler? Not yet – here's hoping!
Dream vacation? Museum-walking in Paris, while holding my husband's hand
Favorite movie? Classic 1930s-40s films, Pride and Prejudice (2005)
Favorite TV show? Downton Abbey, Little House on the Prairie
Favorite book? Jane Eyre by Charlotte Brontë, and Night by Elie Wiesel
Favorite place to write? Everywhere! I write chapters on my iPhone wherever I am.
Funny quirk? I don't wear pink
Secret love? NFL football (Go Colts!)
Most memorable Mom-moment? Saying, "Stop playing with the puke bucket!" – more than once
Why I write? Jesus Christ is everything to me, and I want every story to tell someone about Him.
Life verse? Joshua 1:9NIV – "Have I not commanded you? Be strong and courageous. Do not be afraid; do not be discouraged, for the Lord your God will be with you wherever you go."
From reading those answers, I think you can see why Kristy and I are becoming writer friends. We are eerily similar — except for the puke bucket comment! Here's more about her book, then be sure to read to the end for a giveaway of her book!
"In her historical series debut, Cambron expertly weaves together multiple plotlines, time lines, and perspectives to produce a poignant tale of the power of love and faith in difficult circumstances. Those interested in stories of survival and the Holocaust, such as Eli Weisel's Night, will want to read." —Library Journal, Starred Review
". . . debut novelist Cambron vividly recounts interwoven sagas of heartache and recovery through courage, love, art, and faith." —Publishers Weekly
A mysterious painting breathes hope and beauty into the darkest corners of Auschwitz—and the loneliest hearts of Manhattan.
Manhattan art dealer Sera James watched her world crumble at the altar two years ago, and her heart is still fragile. Her desire for distraction reignites a passion for a mysterious portrait she first saw as a young girl—a painting of a young violinist with piercing blue eyes.
In her search for the painting, Sera crosses paths with William Hanover, the grandson of a wealthy California real estate mogul, who may be the key to uncovering the hidden masterpiece. Together, Sera and William slowly unravel the story behind the painting's subject: Austrian violinist Adele Von Bron.
A darling of the Austrian aristocracy, talented violinist, and daughter to a high-ranking member of the Third Reich, Adele risks everything when she begins smuggling Jews out of Vienna. In a heartbeat, her life of prosperity and privilege dissolves into a world of starvation and barbed wire.
As Sera untangles the secrets behind the painting, she finds beauty in the most unlikely of places: in the grim camps of Auschwitz and in the inner recesses of her own troubled heart.