Hey everyone, meet my author friend, Katie Ganshert. She lives in Iowa with her hubby, their fiv
e-year old son, their goofy black lab, and are awaiting the day their daughter from the Congo will join them. Katie writes contemporary romance and women's fiction. You can learn more about her and her books on her website. In fact, she's giving two of her books away on her blog this week as a Christmas present to her readers! So make sure and hop on over (click on her "blog" tab) for a chance to win! For our Christian Fiction Christmas giveaway, she's chipping in both copies of her books, as well as a $5 gift card to Starbucks.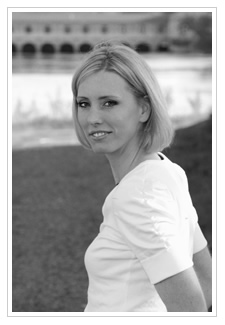 The Christmas question Katie wants to know from YOU is….what's the quirkiest Christmas gift you ever received? Her answer? A jar of green olives. There's a picture of her as a little kid unwrapping the gift, and she looks like she just won the lottery. I guess Katie really likes olives.
I remember my Grandma giving me underwear for Christmas. That strikes me as the quirkiest gift I received. How about you?
Don't forget to enter to win the Christian Fiction Christmas basket!a Rafflecopter giveaway
Because I'm in the Christmas mood, I'm giving away two bonus copies of Shadowed by Grace, my novel that releases January 1st. You can read the first chapter here. There are two ways to enter. Leave a comment here or join my newsletter!