Periodically people have asked me if we could do an online bookclub to discuss a book that challenges us to go deeper and further with God. I finally decided my life will never get simpler where I have a free month on the calendar to explore. So we're diving in. Together.
I'm so excited about exploring the idea of dreaming and living God-sized dreams in community. If you're here, you know we're going to spend this month discussing You're Made for a God-Sized Dream by Holley Gerth. I'm excited about this book. As I've read it I've found myself nodding along to so much of what she says.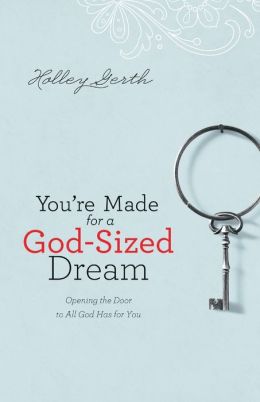 Even if you haven't bought the book, I hope you'll go to Holley's website and work with us through the Go Deeper Guide. I've bought a great plaque, Holley's pitching in an autographed book, and I'll have signed bookplates, too. Stay tuned for details.
So to kick this off right: from Chapter 1:
What would you add to this list? I think one I've battled and really see in a lot of women is the idea that dreaming is selfish. If God created us for a specific purpose, why do we think we don't get to chase that vision.
Now let's look at it from the other side. How would you counter one of these? One thing I'd say about #2 is that God won't call us into an area that He won't fully equip us for the battle and dream.
Holley challenges us to create a vision board. Now I know some of us can whip out a vision board in about two minutes. Others of us will take a couple weeks. I encourage you to begin praying over what should be on your vision board. I'm going to create a pinterest board where we can post these to encourage each other. You can also post them on Facebook. Just be sure to tag me so I can see it!
So what did you think of the first chapter?
Schedule:
This week Chapters 1 & 2
November 8-14 chapters 3 & 4
November 15-21 chapters 5 & 6
November 22 – 29 chapters 7 & 8
November 30 – December 5 chapters 9-11
Are you reading the book and participating in the bookclub? Be sure to let me know here, so I can keep you informed and send you a signed bookplate from the author.