In the coming days, I'm going to share some new historicals with you. The great thing is I have some giveaways to go with them! In addition starting this weekend, there's a new Christian Fiction Scavenger Hunt! See more below.
A New Scavenger Hunt is Coming Soon
Have you heard? A new Christian Fiction Scavenger Hunt is coming.
Those who join the hunt will have a chance to win the grand prize of a Kindle Fire HDX or one of two runners-up prizes of over 30+ new novels by the participating authors.
Add to that all of the bonus giveaways that the authors are offering on their own web sites/blogs, and there are lots of opportunities to win.
The hunt will begin on Friday, October 17th, at Noon MDT Robin Lee Hatcher's blog (Stop #1). It will end at one minute before midnight on Sunday, October 19th.
That gives everyone plenty of time to visit each site/blog, read the content, collect the clues, enter the bonus giveaways, and finally, submit the answers in the Rafflecopter form for the Scavenger Hunt giveaways.
No need to rush. Finishing first won't give you an edge.
So mark your calendars. Tell your friends. Share this blog post on Facebook, Twitter, Pinterest, etc.
A Bonus Review: A Cry From The Dust
Because I'm trying to recover from whatever it is that's stolen my voice and energy, I've been resting the last two days. When I wasn't sleeping or driving kids around, I was reading and wanted to share one of those books with you.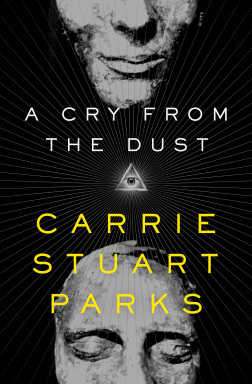 A Cry From the Dust is the debut novel from forensic artist Carrie Stuart Parks. I flew through this novel  in about a day. It feels a bit like Brandilyn Collins' Hidden Faces series with a cool historical twist. The pacing was really good and the writing intriguing. There were enough twists to keep me going — and I couldn't anticipate them all. I love it when that happens! I commend it to you if you enjoy suspense novels with a flawed and believable protagonist. The supporting cast was interesting, and I'm already looking forward to the next book in the series.