This will shock you… I know it… but while on our trip to England last week, I read four novels. I even managed a nice chunk of a non-fiction. Three of the books were read on various flights, and all are quite different. I think you'll enjoy at least a few of them!
Romantic Suspense is one of my favorite genres when I get to just relax with a book. As she's written books, Lynette Eason has become an author I trust to give me a good read with an interesting plot. Somehow I had missed this book, so had to fix that, and I'm very glad I did.
No One to Trust is a wild race from the prologue and the first chapter. When the heroine wakes up to find a gun in her face, you know the book will be a page turner.
Lynette does what she does best…she creates characters that are compelling, a situation that is touch and go as the heroine realizes her husband is far from the man she believed him to be. At a few points the action almost goes too fast — especially at the end. But the characters and story kept me coming back even as I was on vacation in England. I had to know how it ended. Another enjoyable romantic suspense from Lynette Eason.
Mary Connealy is an author whose books I consistently enjoy. Some I delight in, others I savor, but I know her books will usually be a fun read with lots of great splashes of humor.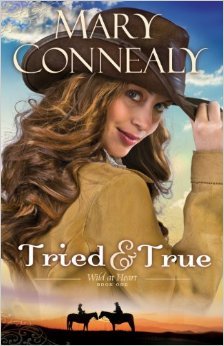 I loved Tried & True! It was such a fun read I laughed out loud multiple times — as I was trying to stifle my reaction since I was on a plane. In fact, it was so good, I couldn't slow down and savor the read. Instead, I found myself flipping the pages faster and faster as I hurried to see what would happen to the characters.The first in a series, Mary perfectly sets up the next two books, while writing a rich story set in Colorado shortly after the end of the Civil War. Kylie Wilde served in the Civil War (pretending to be a boy), and now she's fighting to find out who she really is as she homesteads. The only problem is the land agent finds her, and realizes she can't get the exemption for service during the war because she's a woman. This sets up early friction between the hero and heroine that builds. A strong thread throughout the story is the heroine and her sisters struggle to accept that it's okay and good to be women. Don't roll your eyes, because it is woven wonderfully into a story of sisters who served in the Civil War as men at the behest of their father and continue the charade at his instruction.This story has it all: delightful characters, a twisting plot with great romance and flashes of mystery, all tied up with a bow of humor that leaves me itching to get my hands on the next book!
I enjoy novels set in Regency England, so I decided Prelude for a Lord would be the perfect book to take with me on a recent trip to England. I loved this story about a young woman who was past her prime for marriage (at that time!), yet she was so secure in who she was…partly because she goes so counter to her times. An accomplished musician, she has to hide her best love (the violin) because it's unseemly for a woman to play the instrument. However, when someone takes an inordinate interest in her violin, she seeks help from a man who scorned her interest in the violin years ago during her season.
This book has a compelling romance filled with insurmountable roadblocks. The mystery is rich — one I thoroughly enjoyed. And the setting is layered in such a way I felt like I was transported into the story world…and it's one I want to return to again. There was something very fitting about reading this book while in England.
I highly recommend it for those who love regency novels and for those who love historical romances with a strong mystery. The best news is it's on sale for $5.99 in ebook formats as I write (9/16).
Here's the last one that I read on the flights home. Awakening by Tracy Higley struck me as an innovative book that felt like Percy Jackson for adults — with a deep questioning about religion and truth. A blending of contemporary and ancient storylines with a heroine I wanted to comfort. A teasing romance that leaves me longing for a sequel to see what happens next.
I wasn't quite sure what to think of the book initially, but it kept tugging me back. This will be a great read for those who love books that combine contemporary and historical plots — and that enjoy a bit of suspense in their books.