I know Irene Hannon through her romantic suspense, which I love. That's why when I heard she had a new book out and it was straight romance, I hesitated before jumping on the blog tour. When I love an author for one genre, it can be hard to transition with them to another. Irene did it successfully for me. That Certain Summer is a layered book that explores how four people deal with the ghosts in their past one summer as they also fall in love.
This story is complex with sisters who are about as distant as you can get and a mother who is hyper-critical and pitted them against each other. Add in a secret that has crippled one of them and you have a rich texture for conflict and hope. Then there are two men (one for each sister, of course) equally on journeys that they don't think lead to a future. A book I was hesitant to try quickly became one that pulled me in to the family relationships and the hopes for love and restoration. While it is a large departure from her other books that I've read, I thoroughly enjoyed this romance with women's fiction overtones.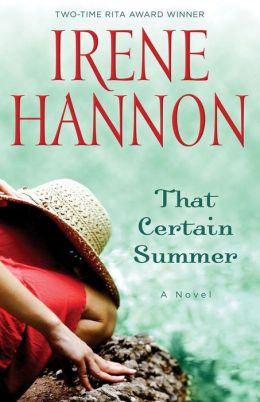 More about the book:
Dive into this tale of complex family relationships, transgressions revealed and forgiven and the complicated process of finding love.
Karen and Val are family – yet they're anything but close. Karen has carried the burden of responsibility for her aging mother ever since her sister left town years ago to pursue a career in theater. But Val had darker reasons for leaving town – and had a secret to keep – so coming home has never been an option . . . until their mother suffers a stroke.
Reunited in their hometown, Karen and Val must grapple with their past mistakes, their own relationship and their issues with a mother who is far from ideal. When a physical therapist raising his daughter alone and a handsome but hurting musician enter the picture, the summer takes on a whole new dimension. As their lives intersect and entwine, can each sister learn how to forgive, how to let go and how to move on? And strengthened by the healing power of faith, might they also find the courage to love?
Irene Hannon is the author of more than 35 novels, including the bestselling Heroes of Quantico and Guardians of Justice series. Her books have been honored with two coveted RITA Awards from Romance Writers of America, a Carol Award, a HOLT Medallion, a Daphne du Maurier Award and two Reviewers' Choice Awards from RT Book Reviews magazine. Booklist also included one of her novels in its "Top 10 Inspirational Fiction" list for 2011. She lives in Saint Louis, Missouri.
For more information about her and her books, visit her website.