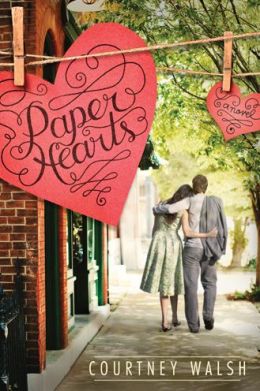 Happy, happy sigh. This reader was swept away by Courtney Walsh's delightful Paper Hearts. It is one of those sweet romances that just has it all!
Abigail Pressman has a dream to expand her bookstore set in a tourist town in the Colorado mountains. All she needs to do is scrape together the funds to buy the building. Before she can do that a new doctor swings into town with the cash to buy her building. Before she really meets him, she knows he could threaten her future plans and happiness…not to mention her livelihood. Jacob didn't intend to destroy her life, he just wanted to create a new one for himself and his daughter. But then the Valentine Volunteers get involved — think a Greek Chorus ala Letters to Juliet, and all kinds of shenanigans happen.
This book is rich with secondary characters who beg to have books of their own, yet keep from stealing the show. Abigail is the kind of heroine I would love to sit down with and share cups of her special Love Peak brew. And the paper hearts are an excellent reminder to keep an eye on my personal romance and ways to keep it alive through good and bad times.
This is a romance perfect for those who love a contemporary story filled with heart, characters you'll adore, and a romance laced with enough angst and ahhhs to keep you reading.