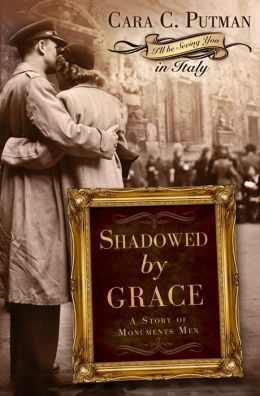 I have been blessed throughout my writing career with some amazing editorial teams to work with. I've had phenomenal covers. And I've had great experiences with my publishing teams.
There's something amazingly special about my next release though. Shadowed by Grace is a story of my heart. It's the story I knew from reading the first chapter of Robert Edsell's nonfiction book The Monuments Men that I had to take the story and adapt it into fiction.
The WWII generation was filled with heroes. This group of men went above and beyond the call of duty to take on a seemingly impossible task.
Here's more:
She found peace in a time of war.
Desperate to save her dying mother, an American woman accepts her newspaper's assignment to travel to Italy where she takes photographs dangerously close to the front lines during World War II. But Rachel's real motive in this journey is to find the father she never knew, an artist she hopes can offer the comfort and support both she and her mother need to survive at such a desperate time.
In her quest, Rachel becomes involved with what will become the Monuments Men effort to save great monuments and works of art from the Third Reich. Soon enough she will find more than she ever imagined—in war, in love, and in God.
From the first chapter of Shadowed by Grace to the last, my heart pounded with excitement. With an authentic knowledge of Word War II history, a gentle hand of artistry, and a heart for true love, Cara Putman draws in readers until they feel they've traveled through time to watch a story unfold of heroes and the women they love. — Cindy Woodsmall, New York Times bestselling author
I literally devoured Shadowed By Grace by Cara Putman and was unable to think of anything else until I finished it. Full of intriguing characters and bursting with engrossing details of World War II and the Monument Men, the novel revealed history I knew nothing about. Everyone should read this book and understand this unique part of our history. — Colleen Coble, bestselling author
"Cara Putman is a truly gifted author who offers strong characterization and quality research in her fiction."
—Tracie Peterson, best-selling author