Today it's my pleasure to introduce you to my friend Melissa Tagg and her debut novel Made to Last. I had the pleasure of reading and endorsing this fun book. Melissa's here today to talk about some of her classic movies, some of my favorites! Here's Melissa: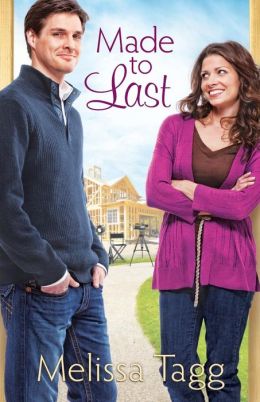 I might like classic movies a little more than the average person.
And by "like" I mean looooove and by "a little" I mean gobs.
Sidenote: as soon as I typed "gobs" I had an instant craving for Gobstoppers. I just paused to go search my cupboards. Turns out I've got two bags of candy corn and a 54-ounce bag of Skittles (both my dentist and I wish I was joking), but no Gobstoppers. Shoot.
Anyway I'm back now and what was I talking about?
Oh yes…old movies! They're my favorite. And if you've peeked inside my debut novel, Made to Last, you may have picked up on that fact. Off the top of my head, I can think of at least six movies mentioned in the book. So just for fun, I thought I'd give you the rundown on the movie references.
And at the end, we'll do a giveaway! One lucky person will win a copy of Made to Last courtesy of Cara. Another lucky commenter will win your choice of one of the following movies:
Christmas in Connecticut
This movie actually inspired Made to Last. It came out in 1945 and stars Barbara Stanwyck as a magazine journalist who has built a fake life for herself—fake home, fake husband, even fake baby. When a returning war vet and her boss decide to spend Christmas with her, she has to produce said pretend life—including a pretend husband. Only problem is, while pretending to be married to one guy, she falls for another. I loved that angle…and borrowed it for Made to Last. I give a nod to Christmas in Connecticut in Chapter 5.
Roman Holiday
Roman Holiday is also mentioned in Chapter 5 when my main character—who normally hangs around in jeans and a tee—is trying on dresses. Okay, if you've not seen this movie you need to. It's just SO sweet. Audrey Hepburn won an Academy Award for her role as a princess. It was her first major American role and ended up being the movie that made her a star. Fun fact: Gregory Peck's role was actually written with Cary Grant in mind. However, Grant turned down the role—feeling he was too old to play Hepburn's love interest. But he'd go on to star opposite her years later in Charade. Which is also a must-see.
Sound of Music
Sound of Music is mentioned right away in the first scene of the first chapter in Made to Last. And it's mentioned several other times throughout the book. Regardless of a person's feelings on musicals, it's just not right to go through life without seeing this movie. True story: As a kid I used to watch this over and over, but I'd always stop watching about three-fourths the way in before the Nazis make an appearance. I liked pretending Maria and Captain Von Trapp and all those kids went on living in that amazing house in Salzburg rather than being chased over the mountains by Nazis!
Gone With the Wind
In Chapter 2, my main character says the line, "I'll think about it tomorrow…at Tara." This may or may not be the line I mutter to myself whenever I don't feel like thinking about something. J I think Gone with the Wind is amazing. It's sweeping and epic and never fails to capture me even as I cringe at Scarlett O'Hara's often-callous actions.
Swiss Family Robinson
Who didn't want to live in a treehouse like the one in Disney's Swiss Family Robinson?? In Made to Last, my main character has built a pretty sweet treehouse for a children's shelter in Asheville, complete with skylights. (I wasn't sure this movie counted as a classic, but it is 53 years old…)
The Birds
Here's the thing with Alfred Hitchcock's The Birds—to me, it's funnier than it is scary. Although, I do sorta get goosebumps anytime I see a line of birds hanging out on a telephone wire. I couldn't help mentioning this movie in Chapter 8 when my heroine has an encounter with a kamikaze bird.
Frankly, I'm pretty sure these six movies are only scratching the surface of the classic movie references in Made to Last.  I know I also mention William Holden, John Wayne and Annette Funicello. Sandra Bullock makes an appearance in Chapter 5, I believe. Okay, she's not a classic movie actress, but I just saw Gravity and whoa, amazing.
Have you seen any or all of the above movies? What's your favorite classic movie?
(If you don't have one, we need to talk… J )
 Cara here: I loved all of these movies, though I haven't seen The Birds. Who didn't want to live in a treehouse after watching The Swiss Family Robinson. Or wear big skirts like Scarlett in Gone with the Wind.
Leave a comment below for a chance to win one of the two giveaways. One person will win Made to Last; another will win your choice of the above movies.