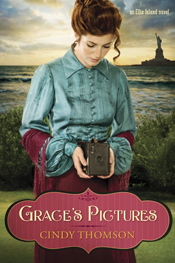 Today I'm delighted to have my friend Cindy Thomson join me. Cindy has been a good friend to me. Here's one example. When I wrote A Promise Forged, I had to write baseball scenes since the book is set in the All American Girls Professional Softball League. Have I ever mentioned that I really don't like baseball? Well, Cindy loves it and has written baseball books, so she very graciously offered to read my baseball scenes. She recently had a historical novel release, and I asked her if she would come share some of the story behind the story. I love Cindy and her story so much, I'm buying a copy to giveaway to one person. Read to the end to find out how to be entered. Here's Cindy!
Five Things You Should Know About Ellis Island
I set my new novel during the Ellis Island era not only because the early 1900s were a fascinating time of contrast between rich and poor, corruption and moral reform, new inventions and old world traditions, but also because so many of us have ancestors whose life experiences during that time contributed to who we are today. Nearly half of all Americans have ancestors who came through Ellis Island.
Ellis Island was more than just an immigration station. Here are few things I believe all Americans should know.
For those who came through Ellis Island, it was the passageway to freedom and hope for a better life. For many life in their homeland was difficult, even dangerous. Some people came to escape the Potato Famine in Ireland. Some came because their families did not have enough land to farm for the younger generations. Some came because there were no jobs, no husbands, no opportunity to improve one's own station or status in their community. In Grace's Pictures, Grace McCaffery had no future but the workhouse, which was a horrible place to be. I blogged about those workhouses/poorhouses here.
Contrary to some of the stories out there, Ellis Island was not a horrible place. Only a small percentage got sent back home. It did happen, and there are heartbreaking stories to be sure, but on the whole the officials tried to treat the immigrants with respect and meet their needs. That's why there were hospitals and accommodations that were vastly improved over the the ship steerage, and probably much better than where they were headed in the tenements. Those who were not released immediately were fed and many immigrants experienced foods they'd never tasted before like bananas, for instance. There is a famous story about a woman who ate the entire thing because she didn't know she was supposed to peel it!
Ellis Island employed a large number of workers, but not an official photographer. You might wonder why there are so many incredible photographs out there of Ellis Island immigrants. Most were taken by Augustus Sherman, a registry clerk. This historical figure appears in Grace's Pictures. Mr. Sherman had his own camera and wanted to capture the faces and native costumes of the immigrants before they became Americanized. Some even changed out of their native dress in Battery Park where relatives already living in America brought them clothes so they wouldn't stand out as newly arrived and naive. I blogged about Augustus Sherman here.
During the busiest years on Ellis Island, many Americans saw immigration as a problem, even those who had immigrated themselves earlier. They thought the new arrivals would take their jobs, tax government services, bring more crime. All of these things are still debated today. I'm not saying which side to take, but just noting that history repeats itself.
The Ellis Island Immigration Museum is still not open after Super Storm Sandy. This makes me very sad. I was enthralled when I was there, and can't wait for an opportunity to go back. I think every American should visit whether they have ancestors who came through or not because it's a part of all of us. The Statue of Liberty will be open July 4, which is wonderful news. Both these National Parks need supporting. Consider making a donation.
About Grace's Pictures
Grace McCaffery hopes the bustling streets of New York hold all the promise the lush hills of Ireland did not. As her efforts to earn enough money to bring her mother to America fail, she wonders if her new Brownie camera could be the answer. But a casual stroll through a beautiful New York City park turns into a hostile run-in with local gangsters, who are convinced her camera holds the first and only photos of their elusive leader.
A policeman with a personal commitment to help those less fortunate finds Grace attractive and longs to help her, but Grace believes such men cannot be trusted. Spread thin between her quest to rescue her mother, do well in a new nanny job, and avoid the gang intent on intimidating her, Grace must put her faith in unlikely sources to learn the true meaning of courage and forgiveness. Learn more and order.
 Cindy Thomson is a writer and an avid genealogy enthusiast. Her love of history and her Scots-Irish heritage have inspired much of her writing, including her new Ellis Island series. Cindy is also the author of Brigid of Ireland and Celtic Wisdom: Treasures from Ireland. She combined her love of history and baseball to co-author the biography Three Finger: The Mordecai Brown Story, which was a finalist for the Society for American Baseball Research's Larry Ritter Book Award. In addition to books, Cindy has written on a regular basis for numerous online and print publications and is a mentor for the Jerry B. Jenkins Christian Writers Guild. She is also a member of American Christian Fiction Writers and the Historical Novel Society. Cindy and her husband have three grown sons and live in central Ohio. Visit her online at www.cindyswriting.com.