The Inn at Ocean's Ridge is Colleen Coble at her best. The story is richly layered around the theme of what makes us a family. Is it blood relationships? Is it love? Is it something else?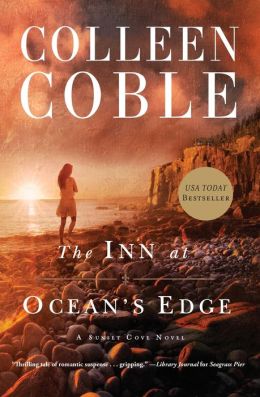 Claire Dellamare arrives at Hotel Tourmaline ready to help her father close a merger with another company. But the moment she arrives, she has a flashback or panic attack that sends her running for the ocean. Luke Rocco is in a quandary deciding between staying in the Coast Guard or coming home to run the family's cranberry bogs. Soon he's in the middle of helping Claire unravel the truth about her past and his mother.
There are threads of murder, kidnapping, and so much more. For the quiet shore of Maine, there's a lot of crime surrounding Claire — something that keeps the sheriff unsure of what's really happening. Through it all, Claire and Luke stay the path in their dogged pursuit of truth. At the same time another character is equally determined to find the truth –regardless of the cost — because her life depends on it.
The story has a strong romantic thread and several subplots that all come together before you reach the end. But the strongest part of this story is the exploration of family. Readers of Colleen Coble's other books will enjoy this first book set on the Maine coast. It will also delight those who love a strong romantic mystery.