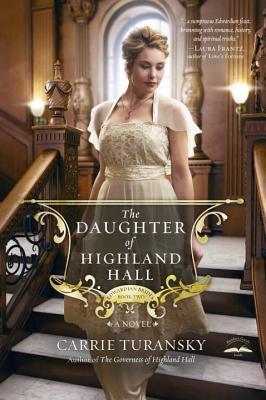 If you're a fan of Downton Abbey, you should read Carrie Turansky's books. The Daughter of Highland Hall is the second of her books in the Edwardian Brides series, but stands on its own. At its essence it is a story of a young woman who is pressed by expectations so high there is no way she can meet them.
Katherine Ramsey has been raised to expect that her life will be fulfilled if she has a season that ends with a marriage proposal from a landed and titled man. Jonathan Foster is studying to be a doctor and determined to help the list of these. Their goals are completely different, but as they spend time together and Katherine's season begins to fall apart she wonders who she really is and what she should truly want for her future.
This is a story of a young woman learning how to stand on her own despite others expectations. Katherine, like so many, must learn her own heart and what she dreams for the future. The road is far from straight, but in the process she comes to know who she truly is. The story is well-written and compelling. A great read for early 20th Century historical romance fans.
a Rafflecopter giveaway

What if the title, the estate, the life of security and splendor… what if it isn't enough?
Strong-willed and beautiful, debutante Katherine Ramsey feels ready to take the London social season by storm, and she must. Her family estate, Highland Hall, has been passed to older male cousin Sir William Ramsey, and her only means of securing her future is to make a strong debut and find a proper husband. With her all-knowing and meddling aunt as a guide, Katherine is certain to attract suitors at the lavish gatherings, sparkling with Great Britain's elite.
When a shocking family scandal sidelines Katherine, forcing her out of the social spotlight, she keeps a low profile, volunteering with the poor in London's East End. Here Katherine feels free from her predictable future, and even more so as a friendship with medical student Jonathan Foster deepens and her faith in God grows. But when Katherine is courted anew by a man of wealth and position, dreams of the life she always thought she wanted surface again. Torn between tradition and the stirrings in her heart for a different path, she must decide whom she can trust and love—and if she will choose a life serving others over one where she is served.
Learn more, read an excerpt, and purchase a copy at Carrie's website.